The Death of American Vogue as we know it?
By: Hudson De Witt Kelly Guest Blogger and Freelance Public Relations Executive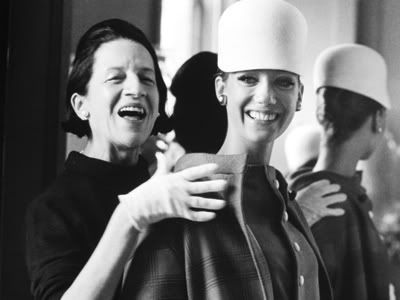 Diana Vreeland, editor in chief American Vogue 1963-1971 with model
It may ring true now more than ever when Fashion Editor/Fashion Maven Diana Vreeland said these words as she saw what fashion magazines where here for "What these magazines gave was a point of view. Most people haven't got a point of view; they need to have it given to them-and what's more, they expect it from you. [...][I]t must have been 1966 or '67. I published this big fashion slogan: This is the year of do it yourself. [...][E]very store in the country telephoned to say, 'Look, you have to tell people. No one wants to do it themselves-they want direction and to follow a leader!'"[21] and I say this because there are major changes going on at American Vogue that explains this point of reference in which I use to start off this blog.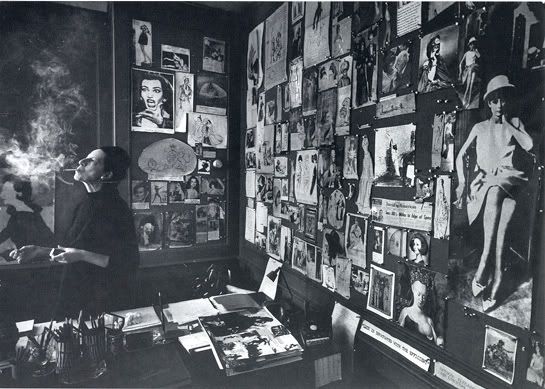 Diana Vreeland photographed by James Karales in her Vogue Office, New York 1965
Before I even continue we need to understand the power of Vogue Magazine we must understand its power. Vogue was not just a magazine for women to browse about its fashion pages, it gave you an idea and it created industries; public relations, marketing executives, assistants, make-up artists, photographers, modeling agencies all benefited and massed great wealth because of Vogue and of course its readers because Vogue knew that it had an audience of women and yes men that wanted not only a better world but a fashionable one that had class, integrity and hope.
Yes, there was actually a list of models that supported Diana and Anna no matter where they went, they inspired music, art, home décor, Parson's school of Design, everyone benefited and still does on Vogue's success that is why it saddened me when models began to be whipped of the covers of Vogue. Again as a very passionate person and a very passionate man I can see past what divides men and women as Vogue inspired me to be so much better in the world that I created for myself. It allowed me to see everything in color, vibrant color. I was able to see past being an abused, neglected child and know that even the rich and elite had hardships that I too could survive and make a better way for myself.
But for years now change has taken place as models who once credited there success and still will to Vogue magazine where replaces with celebrities marketing their next CD, movie or other project thus making Vogue more like People then the magazine we have known and loved for so many years. I was four or five when I read the 1969 Vogue my Grandmother still had and I found others dated all the way to the 40's those probably shaped her life as they would my mothers, sisters and me. So since the OJ Simpson car chase that captivated us all we have seen a shift from make believe to reality. Television has forever been altered when reality television became the norm and now Daytime TV is gone from us just as I fear that one day Vogue will be as well.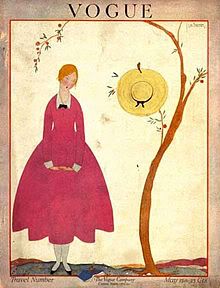 Vogue cover, circa 1917. Early covers featured artist drawings and paintings instead of photographic images.
Again after all the tides in advertising sales dropping, the turn to reading our magazines and newspapers online; Vogue's readership subscriptions have held steady but it is one of the costly magazines to produce. So it surprised me today when Vogue altered the landscape yet again by announcing two trends they will now follow; first being no models under 16 no matter how mature they are for Teen Vogue and two they announced no more "skinny" models will be featured in the pictorials as well so that leaves half the industry unemployed as they are under immense pressure and photo shopped to look even thinner but this controversy began with Kate Moss maybe even before but now with Vogue taking this sort of stand means other big things are only set to come for this media giant.
I know and have worked with a lot of these young women, have become close to some of them such as Liya Kibede, Karlie Klass, Natalie Vodianova, Chanel Iman not to get to name dropping but I see it as important because they are both very healthy young women who I don't want careers to suffer because Americans are on such a crusade to make everything so normal so in the very words of Diana I too say that Americans need direction and whom else to lead the way but Vogue Magazine hopefully with style, class, taste and ideas that no one will ever be able to take away.
Good day to you all
Hudson De Witt Kelly